Fish and chips
With more than 283 million fish and chip shop meals (featuring fish) sold a year, the traditional dish of fish and chips is still top of the league of Britain's favourite fast foods. It is difficult to resist the tasty combination of fish and chips and fortunately there are over 8,600 fish and chip shops in the UK.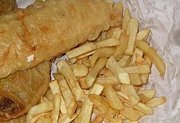 Traditional paper wrapped fish & chips
Delicious, nutritious and close to the nation's heart

What is it about fish and chips that makes them the number one takeaway in the UK? Is it the wonderful aroma, their unrivalled flavour, the warm comforting feeling that they provide, or simply their natural golden good looks?
Fish and chips from fish and chip shops are freshly prepared from natural products. Fillets of fish, mostly haddock or cod but sometimes plaice and whiting, are covered in batter, fried until golden and served with freshly chipped potatoes. Fish and chips are a wholesome dish and lower in calories than many of their fast food rivals. They have been recommended by doctors for pregnant women and were one of the only foods not to be rationed during the war. Historians even argue that fish and chips helped us to win the Second World War.
Britain's favourite accompaniment to fish and chips is salt and vinegar but depending on the region, others are just as popular… mushy peas, tomato ketchup, curry sauce, gravy, or even a bottle of stout. Strange but true, the Chinese are so sweet on our fish and chips that they serve them with sugar.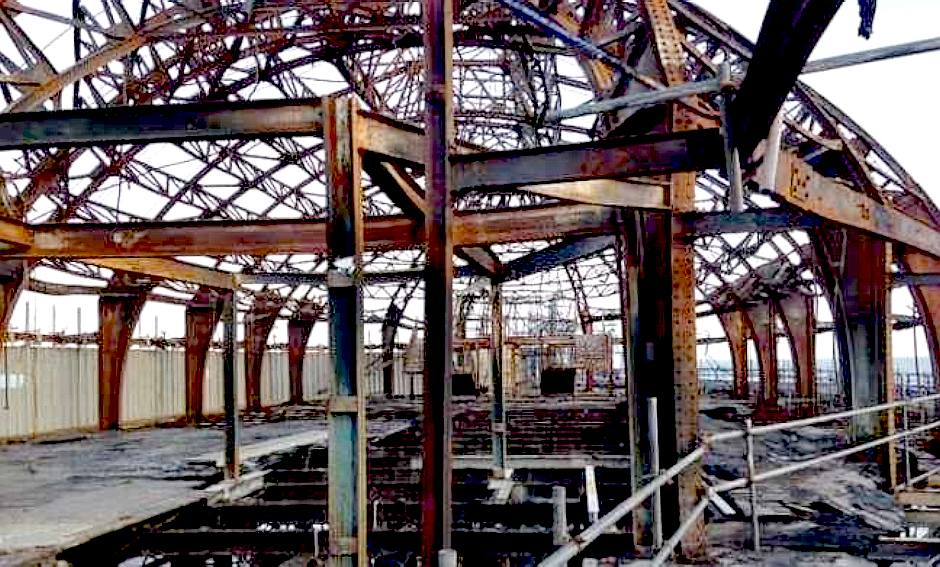 FISH & CHIPS - Eastbourne Pier used to be a place to go to to enjoy a helping of fish and chips. The last time our reporter tried some, they were not to be recommended. The above is an example of how standards have slipped on this pier. The penny arcade was one of the most prominent features of this pier for over 90 years. It is as much a part of our heritage as fish and chips.
Description
Fish and chips is deep-fried fish in batter with deep-fried potatoes, and a popular take-away food. Fish and chips are the national dish of the United Kingdom, but also very popular in Australia, Canada, Ireland, New Zealand, South Africa and some coastal towns of the Netherlands and Norway; and also increasingly so in the United States and elsewhere. For decades it was the dominant (if not the only) take-away food in the United Kingdom.
The fried potatoes are called chips in British and international usage; and while American English calls them french fries, the combination is still called "fish and chips". (Potato chips, an American innovation, are a different potato-derived food, and are known as crisps in the United Kingdom.) The traditional way is to fry in beef fat, though some chips shops use vegetable oil, which imparts a different taste to the dish, but is acceptable to vegetarians. Some maintain that the best types of potatoes to use for chips are 'Lincolnshire Whites' or 'Maris Piper'.
The pronunciation of fish and chips is a traditional method of distinguishing Australians and New Zealanders (a Shibboleth; see also New Zealand English).
History
Fish and chips have separately been eaten for many years – though the potato was not introduced to Europe until the 17th century. The originally Sephardi dish Pescado frito, or deep-fried fish, came to the Netherlands and England with the Spanish and Portuguese Jews in the 17th and 18th centuries. The dish became popular in more widespread circles in London and the south-east in the middle of the 19th century (Charles Dickens mentions a "fried fish warehouse" in Oliver Twist 1850s) whilst in the north of England a trade in deep-fried "chipped" potatoes developed. It is unclear when and where these two trades were merged to become the fish and chip shop industry we know today. The first combined fish and chip shop was probably the one opened in London by Joseph Malin in 1860 and Mr John Lees opened the first fish and chip shop outside London in Mossley, near Ashton in Cheshire in 1863.. During World War II, fish and chips were one of the few foods that were not rationed in the UK.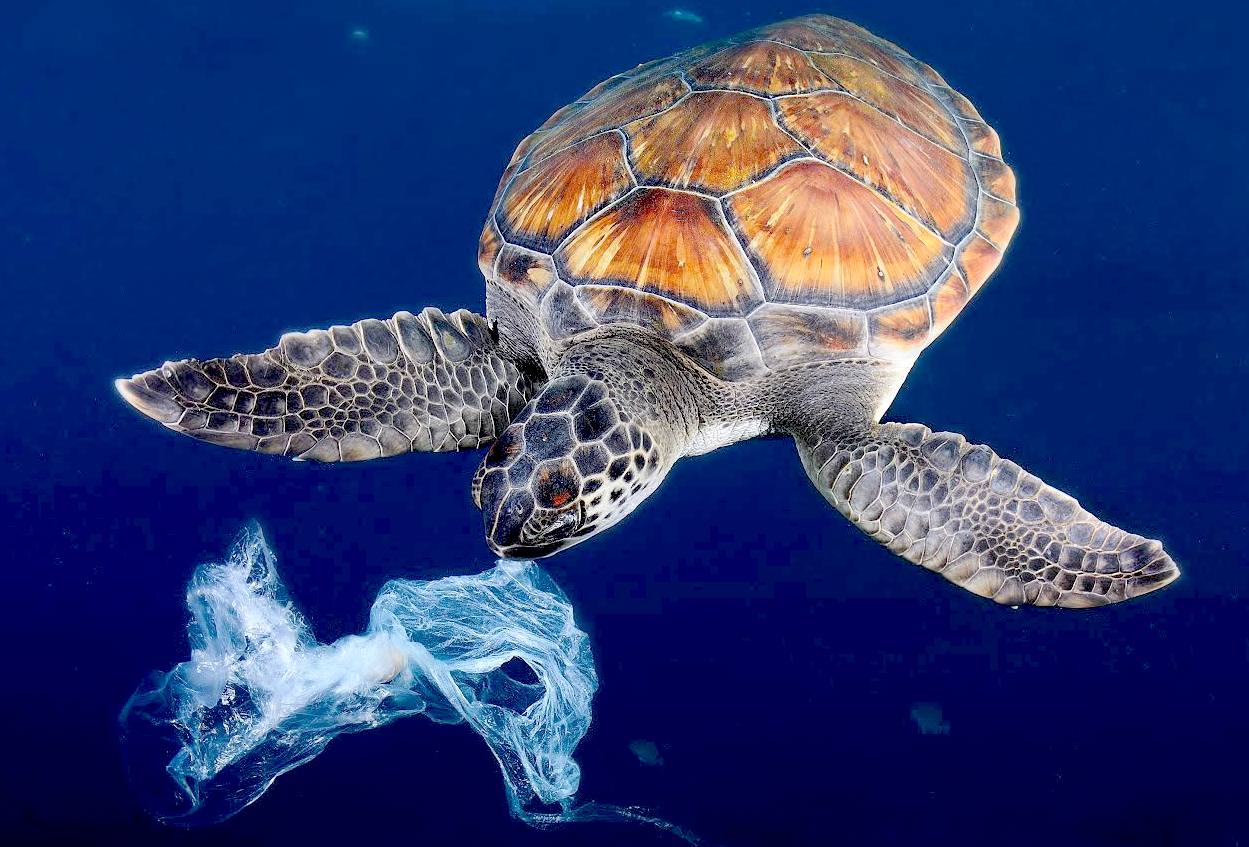 FISH & CHIPS - The next time you enjoy a portion of fish and chips, think of the fish eating all the plastic that we humans are feeding them. What are we like?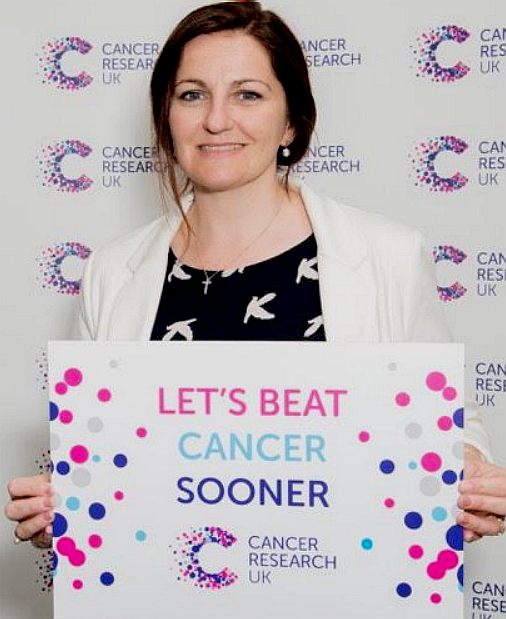 CAROLINE ANSELL - Eastbourne MP Ms Ansell joins in the fight for cancer research. Has she given any thought to the vast amounts of plastic bottles that are entering our oceans. This plastic is being eaten by our fish stocks and the toxins that the plastic attracts is slowly poisoning us.
Choice of fish
The most common fish used for fish and chips in England is cod, but many kinds of fish are used, especially other white fish, such as pollock or haddock; plaice, skate; and rock salmon (dogfish). In northern England and Scotland haddock is the most popular choice.
In Australia the preferred type of fish is cod (though of a different variety than that used in the UK) or flake, a type of shark meat. Increasing demand and the decline of shark stocks due to overfishing has seen flake become more expensive and, as in the UK, other white fish, such as barramundi, is often substituted.
In New Zealand snapper is preferred because of its superior taste, but hoki is an inexpensive alternative. In South Africa hake (Merluccius capensis) is the most commonly used fish for fish and chips. Snoek (Thyrsites atun) is also popular in Cape coastal areas. Kingklip (Xiphiurus capensis, known as cuskeel internationally) is a less common and generally more expensive alternative.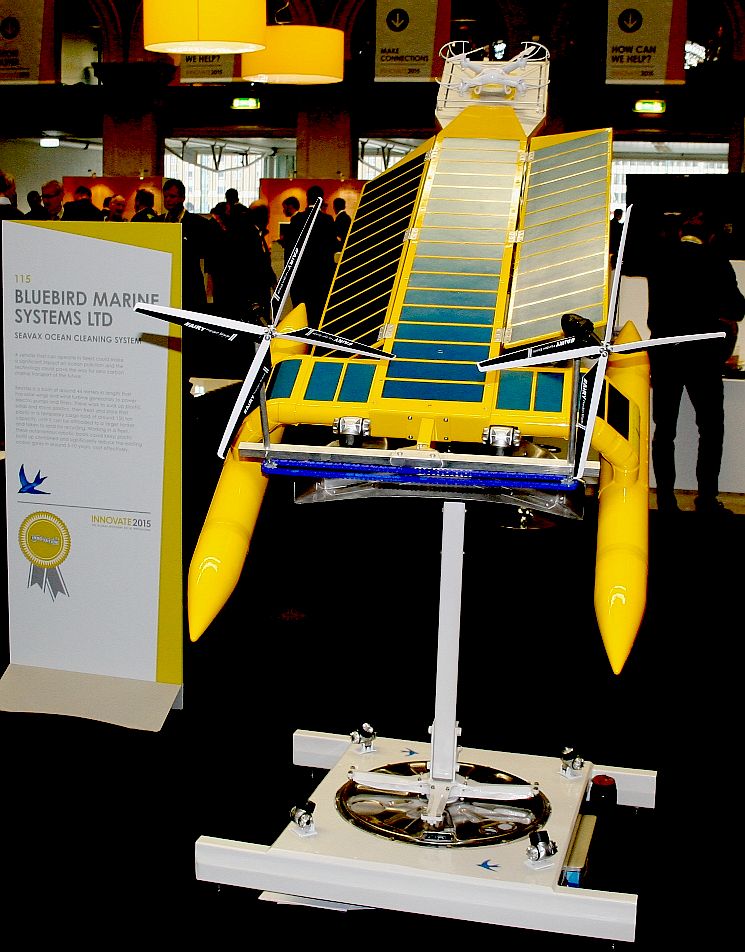 INNOVATION - This amazing autonomous boat that was built by a company in Sussex, was on display at the Old Billingsgate exhibition centre in London on the 9-10th of November 2015. The stand was especially made for this show. As you can see it is possible to tilt the robot vessel so that it is almost vertical. The stand is motorised to revolve at about one revolution in half a minute. Although not ready for this year's outing, it is planned to make the stand interactive with audiences and to fit driven wheels such that the robotic boat and stand combined can give interesting displays, demonstrating the versatility of robotics. The boat is designed to vacuum plastic waste from the polluted oceans of the world. Not at this scale. This proof of concept model is only 2.2 metres long. The full size vessel is 44 metres long with a suction head some 13.5 metres wide (44 feet) - making it the world's largest vacuum cleaner. The solar and wind powered ship could be used to clean up our River Thames and the River Ganges, or even the dirtiest river in the world, the River Citarum in Java. The technology could be one of the biggest UK exports in the next ten years.
Accompaniments
In the UK, fish and chips are usually served with free salt and vinegar. This may be malt vinegar or onion vinegar (the vinegar that pickled onions are stored in). Often something called "non-brewed condiment", which is actually a solution of acetic acid in water with caramel added for colour, is used as a substitute for genuine malt vinegar. In the US, malt vinegar (or, in some establishments, red-wine or cider vinegar) is often served with the combination as well. A common Canadian preference is for white vinegar on the chips and squeezed lemon on the fish. Scots also tend to prefer white vinegar to malt vinegar. In Australia the use of chicken flavoured salt (known as chicken salt) is quite widespread on chips, that even fast food chains like KFC no longer carry regular salt and use chicken salt by default.
Scraps of batter that fall into the fat and cook (also known as scrumps or bits) are usually included free on request. Other popular dressings, usually at an extra charge, include:
Around Edinburgh in Scotland a combination of spirit vinegar and brown sauce, known simply as "sauce", is popular. Around the Great Lakes (for example, in Buffalo, New York), the popular tradition of Catholics eating fish on Fridays (especially during Lent) has resulted in a codifying of a particular sort of "Fish Fry", which includes a piece of whitefish (often Haddock), a plentiful amount of french fries (generally thicker-cut "steak" fries), potato salad and/or macaroni salad, and coleslaw. This is so ubiquitous that some supermarkets in the area sell it from their seafood departments, and many local bars serve fish fries every week.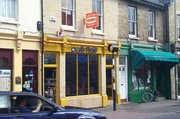 A fish and chip shop in Oxford
Fish and chip shops
In the UK and Australasia, fish and chips are usually sold by independent restaurants and take-aways, colloquially known as chippies or chip shops in the UK1, or fish and chips shops in Australia and New Zealand. Occasionally, in these two countries, the term "Fish and Chippery" is used by stores, and outlets likewise range from small affairs to the likes of the famed Doyles at Watson's bay in Sydney. Roughly 25% of all the white fish consumed in the UK, and 10% of all potatoes, are sold through fish and chip outlets.
Fish and chip shops themselves vary enormously in the UK, from little back street affairs to posh "Fish Restaurants", with seating and waitresses. There is one well-known chain based in the north of England called Harry Ramsden's but chains are uncommon in the UK. The company originated in Guiseley near Leeds. UK fish and chip shops sometimes combine with sales of other takeaway food products, such as burgers, chinese food and pizzas, but by far the most common such shop simply sells fish and chips, their traditional accompaniments, and little else, although in fishing towns it is also common for fish and chip shops to sell uncooked fish.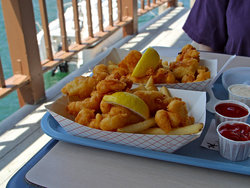 Fried fish and french fries on the waterfront in San Diego
US fast food restaurant chains that sell fish and chips include Long John Silver's, Captain D's, H. Salt Fish and Chips, Arthur Treacher's, and, in the Pacific Northwest, Ivar's. In the 1990s, the perception within the United States that fish and chips were unhealthy led to a decline in consumption and the financial problems of Long John Silver's and Arthur Treacher's. These brands have been acquired by other restaurants and the current strategy of both of these chains appears to be combining fish and chips with other brands to create the concept of fun food. In Canada, the Harvey's and La Belle Province fast food chains sell fish and chips, although this is a minor item in their menus.
Other dishes
Fish and chip shops typically offer other fast food, which may be eaten in place of the traditional battered fish. Typical alternatives offered in most English "chippies" include:
Fish and chip shops sometimes sell other deep-fried foods, anything from chicken to fruit such as banana and pineapple; even Mars bars are served deep-fried (see Deep fried Mars bar), especially in Scotland. In Scotland the choice of alternatives includes haggis, black pudding, red pudding, and white pudding (all served thickly battered). In Australia, perhaps the most popular accompaniment is the potato scallop (called the 'potato cake' in Victoria, 'potato fritter' in South Australia and not to be confused with the sea scallop) a thick slice of potato deep fried in batter. Another common accompaniment is an Australian version of Chinese dumplings known locally as a dim sim and an Australian version of a spring roll called the Chiko Roll. An increasing number of stores in Australia may also deal in Döner kebabs.

In Scotland and Northern England a meal of fish and chips is a fish supper. Similarly, in Scotland one can order a haggis supper, a steak pie supper, and so on; supper means "with chips", in this context.
Fish and chips were traditionally packaged with an inner white paper wrapping and an outer insulating layer of newspaper or blank newsprint, though nowadays the use of newspaper has largely ceased on grounds of hygiene, and food quality wrapping paper is often used instead, occasionally printed on the outside to emulate newspaper. Use of actual newspaper was banned in Australian fish and chip shops in the 1970s and butcher's paper was instead used as the external wrapping. Polystyrene packing, usual in many other kinds of take-away outlet, is sometimes substituted. Purists maintain that it "doesn't taste the same" in polystyrene or cardboard. In New Zealand, it remains common practise to use newspaper in the wrapping process.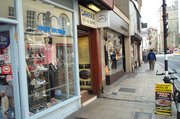 City centre chip shop in Oxford
Footnote
The term chippy as a noun is, depending upon the language; a fish-and-chip shop or a carpenter (British English) or a pejorative term for a prostitute in American English.
External links
A TRADITIONAL SUSSEX COUNTRY PUB
The best Fish and Chips I've had in a long time was served to me on a very hot summer day in June 2005. The fish (Cod) was fresh, chunky and succulent, the way fish should be prepared. The batter was homemade.
The village of Firle is famous for a number of reasons, to include the writer Virginia Woolfe. Hence, whether you are out for some airborne sport, rambling or catching up on your history, it is well worth a visit. The pub has recently been refurbished by the new landlords, Shaun and Hayley.
I'd heard this was one pub to stay clear of because the food was nothing special. How wrong that was. I've seen the kitchen and staff in operation. The kitchen is well organised and clean. The staff are friendly and helpful.
Nelson Says - delicious fish and chips
2005 - The Ram Inn is an attractive, unspoilt country pub that remains relatively unchanged since it was built in the 16th century. There is a main bar, a quiet non-smoking snug area and a large family room. In the summer, food and drink can be enjoyed in the delightful sheltered gardens, where there is a children's play area and a separate hidden garden, ideal for quiet dining. In winter months the log fires in the bar and snug create a warm and friendly atmosphere.
The Ram serves traditional pub food with a difference prepared to an exceptionally high standard every day, from midday until 9pm. The bar stocks three real ales, including Harveys, and a traditional hand-pulled cider. Guinness and Budweiser are also available. There is a large range of soft drinks and a selection of children's drinks too.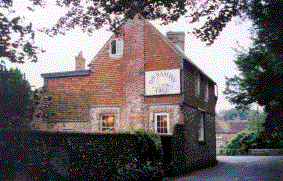 A Traditional Sussex Country Pub
In 2006 The Ram Inn lived up to its reputation as a rambling wooden oasis, with eccentric little hidey holes that is the garden. This interesting old house, once the law courts complete with a holding cell in the basement.
Mon-Sat 11.30-23.00; Sun 12.00-22.30
Traditional pub food served all day
Visa, Mastercard, Delta, Switch
Children's play area, beer garden, parking.
THE RAM INN
Firle, Nr Lewes, East Sussex, BN8 6NS
Tel: 01273 858222
Directions: From the end of the M23, follow the A23 towards Brighton. When you reach the A27 turn left and follow it to Lewes, and then on towards Eastbourne. About 4 miles beyond Lewes, past the turning for the A26, Firle is signposted on the left.
Firle Place, Charleston Farmhouse 2 miles, Glyndebourne 3 miles, Lewes Castle 5 miles, Michelham Priory 8 miles, Brighton 12 miles, Seven Sisters Country Park 10 miles.
The Seafood Industry
---