"Cloud Electric Vehicles" has just been contracted to break its own world record for fastest Electric Powered Boat. The Driver will be Michael Murphy and the sponsor is: "California Technology Stock Letter". The goal is to break the 100 mph barrier. The present record (ours) is 70.597 mph for a two way run in the kilo.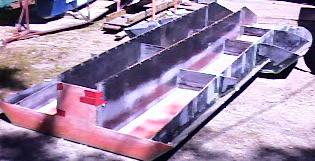 DETAILS OF THE NEW BOAT

Length---------- 16'
Width----------- 7' 9"
Trap Width---- 48"

Using composite kevlar honeycomb board for 95 percent of construction, the hull weighs in at less that 250lbs. We plan to use about 600lbs. of batteries and 2 motors at 60lbs. each. With a 190lb driver. The construction, design and weight of the boat has been why we could achieve our speed goals, along with matching the right motor, batteries and prop to use the available energy to it's maximum capability. As before we looked at several existing racing hulls before deciding to build the new boat. The weight, etc, did not meet our requirements.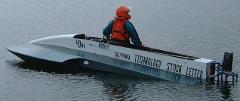 Our competitor is the British team Lightning Strike, which looks to be a real beastie.