The standing Union Internationale Motornautique (UIM) record belongs to Fiona, Countess of Arran, whose 1989 mark in An Stradag stands at 50.825mph (81.793kph). American team Cloud Electric are the American Power Boat Association (APBA) record holders with 70.597mph (113.61kph) in 1995.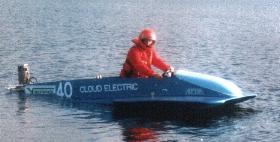 The American Project Cloud Electric. In 1995 their craft set a two-way average speed over the kilometre of 70.597mph (113.61kph) under APBA jurisdiction. They used a "stock" 'kneeler' hydroplane fitted with a 144V electric outboard motor. Their craft was a typical kneeler style outboard hydroplane that is commonly raced in the UK in the OSY400 Class. But they are not resting on their laurels.
Cloud Electric has built a new craft with the intention of improving on their 1995 figures. To date they have reached their existing record speed in testing and are planning another attempt in October.