Bernard Charles "Bernie" Ecclestone (born October 28, 1930 in Suffolk, United Kingdom) is the president and CEO of Formula One Management and Formula One Administration, he also owns a major stake in Alpha Prema, the parent company of the Formula One Group of companies. As such is generally considered the primary authority in Formula One racing. His control of the sport, which resulted from his pioneering the sale of television rights in the late 1970s, is chiefly financial, but under the terms of the Concorde Agreement he and his companies also manage the administration, setup and logistics of each Formula One grand prix.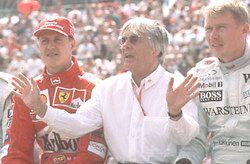 Michael Schumacher Bernie Ecclestone and Mika Häkkinen
Motorsports career
Early life
Ecclestone was born in St Peter South Elham, a small town near Ipswich, Suffolk, United Kingdom, and shortly thereafter moved near London, leaving school at age 16 to work at the local gasworks and pursue his hobby, motorcycles. Immediately after the end of World War II, Ecclestone went into business trading in spare parts for motorcycles, and formed the Compton & Ecclestone motorcycle dealership with Fred Compton. His first racing experience came with 500cc Formula 3 Series; he drove at a very few events, and gave up in 1951 after an accident at the Brands Hatch circuit when his car landed in the car park on the outside of the track.
Team ownership
After his accident, Ecclestone temporarily left racing to make a number of lucrative investments in real estate and loan financing and to manage the Weekend Car Auctions firm. He returned to racing in 1957 as manager of driver Stuart Lewis-Evans, and purchased the F1 Connaught team, whose drivers included Lewis-Evans, Roy Salvadori, Archie Scott-Brown, and Ivor Bueb. Ecclestone even attempted, unsuccessfully, to qualify a car himself at Monaco in 1958.
He continued to manage Lewis-Evans when he moved to the Vanwall team; Salvadori moved on to manage the Cooper team. Lewis-Evans suffered severe burns when his engine exploded at the Moroccan Grand Prix and succumbed to his injuries six days later; Ecclestone was rather shaken up and once again retired from racing.
Soon enough, however, his friendship with Salvadori led to his becoming manager of driver Jochen Rindt and a partial owner of Rindt's Formula 2 team, Lotus (whose other driver was Graham Hill). Rindt, on his way to the 1970 World Championship, died in a crash at the Monza circuit, though he was awarded the championship posthumously.
In early 1972, Ecclestone purchased the Brabham team from Ron Tauranac and began his decades-long advocacy for team control of F1, forming the Formula One Constructors Association with Frank Williams, Colin Chapman, Teddy Mayer, Ken Tyrrell, and Max Mosley. Hereabouts arose the continuing question of television rights.
FISA-FOCA war
Ecclestone became chief executive of FOCA in 1978 with Mosley as his legal advisor; together, they negotiated a series of legal issues with the FIA and Jean-Marie Balestre, culminating in Ecclestone's famous coup, his securing the right for FOCA to negotiate television contracts for the Grands Prix. For this purpose Ecclestone established Formula One Promotions and Administration, giving 47% of television revenues to teams, 30% to the FIA, and 23% to FOPA (i.e. Ecclestone himself); in return, FOPA put up the prize money - grand prix is French for "big prize".
Television rights shuffled between Ecclestone's companies, teams, and the FIA in the late 1990s, but Ecclestone emerged on top again in 1997 when he negotiated the present Concorde Agreement: in exchange for annual payments, he maintains the TV rights. The contract with the various teams is to expire on the last day of 2007, and that with the FIA on the last day of 2012.
Recent activity
Despite heart surgery and triple coronary bypass in 1999, Ecclestone has remained as energetic as always in promoting his own business interests. In the late 1990s he reduced his share in SLEC Holdings (owner of the various F1 managing firms) to 25%, though despite his minority share he retained complete control of the companies.
Also in 1999, Terry Lovell published a biography of Ecclestone, Bernie's Game: Inside the Formula One World of Bernie Ecclestone (ISBN 1843580861).
Ecclestone came under fire in October 2004 when he and British Racing Drivers' Club president Jackie Stewart were unable to come to terms regarding the future British Grand Prix, causing the race to be dropped from the 2005 provisional season calendar. However, when the heads of the ten teams met and agreed on a series of cost-cuts later in the month, the race was again added to the calendar, and a contract on December 9 guaranteed its continuation for five years.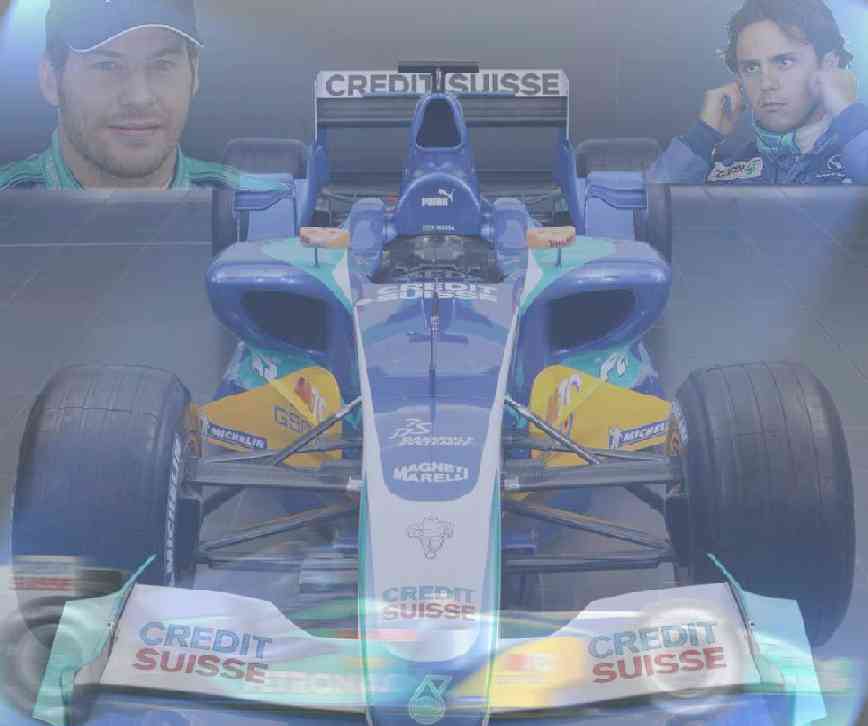 In mid-November 2004, the three banks who comprise Speed Investments, which owns a 75% share in SLEC, which in turn controls Formula One - Bayerische Landesbank, J.P. Morgan Chase, and Lehman Brothers - sued Ecclestone for more control over the sport, prompting speculation that Ecclestone might altogether lose the control he has maintained for more than thirty years. A two-day hearing began on November 23, but after the proceedings had ended the following day, Justice Andrew Park announced his intention to reserve ruling for several weeks. On December 6, 2004, Park read his verdict, stating that "In [his] judgment it is clear that Speed's contentions are correct and [he] should therefore make the declarations which it requests." [1] However, Ecclestone insisted that the verdict - seen almost universally as a legal blow to his control of Formula One - would mean "nothing at all" [2]. He stated his intention to appeal the decision.
The following day, at a meeting of team bosses at Heathrow Airport in London, Ecclestone offered the teams a total of £260,000,000 over three years in return for unanimous renewal of the Concorde Agreement, which expires in 2008 [3]. Weeks later, Gerhard Gibkowsky, a board member of Bayerische Landesbank and the chairman of SLEC, stated that the banks had no intention to remove Ecclestone from his position of control [4].
Ecclestone was a victim of theft in March of 2005: two wheels were stolen from his car while it was parked outside his London home. The car, a brand new Mercedes Benz CLS55 AMG V8, was said to be the first of its kind in Britain.
On Friday, June 17, 2005, Ecclestone made American headlines with his reply to a question about Danica Patrick's fourth-place finish at the Indianapolis 500, during an interview with Indianapolis television station WRTV: "She did a good job, didn't she? Super. Didn't think she'd be able to make it like that. You know, I've got one of these wonderful ideas that women should be all dressed in white like all the other domestic appliances." [5] [6].
In the following two days, Ecclestone saw 14 of 20 cars refuse to race in the 2005 United States Grand Prix at the Indianapolis Motor Speedway. The seven teams who refused to participate, stating concern over the safety of their Michelin tyres, requested rule changes and/or a change to the track configuration. Despite a series of meetings between Ecclestone, Max Mosley, and the team principals, no compromise was reached by race time, and Ecclestone became an object of the public's frustration at the resultant six-car race. Despite his not having caused the problem, fans and journalists blamed him for failing to take control and enforce a solution, given the position of power in which he had placed himself.
On November 25 2005 CVC Capital Partners announced it was to purchase both the Ecclestone shares of the Formula One Group (25% of SLEC) and Bayerische Landesbank's 48% share (held through Speed Investments). This left Alpha Prema owning 71.65% of the Formula One group. Ecclestone used the proceeds of this sale to purchase a stake in this new company (the exact ratio of the CVC/Ecclestone shareholding is not yet known). On December 6 Alpha Prema acquired JP Morgan's share of SLEC to increase its ownership of Formula One to 86%, the remaining 14% is held by Lehman Brothers.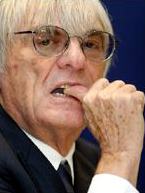 Bernie Ecclestone's £1m gift caused trouble for Labour
Labour Party scandal
In 1997 Ecclestone was involved in a political scandal when it transpired he had given the Labour Party a million pound donation - which raised eyebrows when the Labour government changed its policy to allow Formula 1 to continue being sponsored by tobacco manufacturers. The Labour Party returned the donation.
Personal details
The Sunday Times Rich List of 2003 ranked Ecclestone the 3rd richest person in the United Kingdom, with an estimated fortune of £2,400m. He fell to eighth place in 2004's Sunday Times Rich List, his fortune having decreased to £2,343m. In early 2004 he sold his London residence to steel magnate Lakshmi Mittal for £70 million (then $128 million), making it the most expensive house ever sold.
Ecclestone is married to Slavica Ecclestone, neé Slavica Malić, a 6'2" Croatian former Armani model who is 28 years his junior, with whom he has two daughters, Tamara and Petra.
Bernie Ecclestone has made a promise that F1 will return to South Africa within five years. He has begun talks with a consortium planning to build an F1 circuit in Cape Town. Ecclestone has also made a pledge to hold a Russian Grand Prix either in Moscow or St. Petersburg in the near future. He is in nearly continuous talks with potential race promoters all around the world. It is believed that one significant factor that has F1 searching for venues outside of Europe is the spread of laws in Western nations prohibiting cigarette advertising in sport.
---
LINKS and REFERENCES
Official sites
---
The row over the future of the British Grand Prix has highlighted the huge influence Bernie Ecclestone holds within Formula One.

BBC Sport profiles Ecclestone and Max Mosley, F1's other major powerbroker.

Mosley (left) and Ecclestone wield the power in F1

Bernie Ecclestone made Formula One what it is today, and he rules the sport through a mixture of fear, respect and acute business acumen.

The one-time motorcyle salesman can claim pretty much all the credit for transforming the sport into the huge global brand it is today.

It was Ecclestone who started the F1 revolution in the 1980s by persuading team owners that he should negotiate on their behalf for television and marketing rights.

As a result, he is now an extremely wealthy man. Reputed to be worth £2.3bn, Ecclestone and his family occupied eighth position on the Sunday Times Rich List for 2004. His love of motor racing began in the 1950s, but a crash ended his career as a driver.

He then moved into management. His first client was Stuart Lewis-Evans, who was killed in a crash. Ecclestone then managed the Austrian Jochen Rindt, who also died in a crash but became the first driver to be posthumously named world champion.

In the 1970s, Ecclestone bought the Brabham team. He sold the company in the late 1980s, and then launched his bid to overhaul F1's commercial arrangements. Ecclestone now owns a network of companies which have the exclusive right to sell and market the International Automobile Federation's (FIA) TV rights.

In 2000, the FIA agreed to lease him the rights for 100 years, which further increased his position. In March 2000, he sold 50% of one of his companies, Slec Holdings, to German broadcaster EM.TV.

The shares then passed to media giant Kirch, which acquired another 25% of the business, leaving Ecclestone with 25%. Kirch collapsed in 2002, with three banks - Bayerische Landesbank, Lehman Brothers and JPMorgan - taking over its stake in F1.

While talks go on about the sale of the banks' shares, Ecclestone's grip on the sport remains is undiminished. Now 73, he has often said that the pursuit of wealth is no longer the main driving force in his life. But, as the dispute over the future of Silverstone has shown, Ecclestone will never allow himself to come off second best in any deal.

Mosley is the son of controversial MP Oswald Mosley, the leader of the British Union of Fascists in the 1930s.

At one time he considered a career in politics, but was advised against it because it was thought his family background would count against him. The qualified barrister has, however, used his skills to good effect as president of motorsport's governing body the FIA.

While Ecclestone has a reputation as a streetwise wheeler-dealer, Mosley is seen as a cerebral operator, responsible for implementing a raft of changes to the way the sport is run. His involvement with motor racing began in the late 1960s when he co-founded March - a racing car manufacturer.

The company then moved into building F1 cars and built up a dominant position in American Indy Car racing in the 1980s. Mosley, however, extricated himself from March to concentrate on F1 politics. He was Ecclestone's lawyer during a bitter dispute within the sport in the early 1980s, and played a key role in drafting the Concorde Agreement which settled the issue and still governs F1 today.

By 1991, Mosley had become president of the sporting arm of the FIA. Two years later, he was elected president of the whole federation. Through the FIA, he has involved himself in road safety, and takes pride in the part he played in the introduction of the Euro NCAP crash test standards.

Over the years, Mosley has had a number of spats with F1 car makers over his plans for the sport. He announced in July that he intended to quit his FIA role at the end of the season, saying that he found discussions with team owners increasingly tedious.

But he subsequently decided to stay on until at least October 2005 after the FIA senate asked him not to step down. Mosley has also had public rows with Ecclestone. But many F1 insiders believe these are just part of a well crafted plan to strengthen their control over the sport.

Whatever team owners, manufacturers and F1 fans may think of them, few would dispute that the pair form a brilliant and powerful double act.
VEHICLE HISTORY A - Z
---
SEARCH REFERENCES and LINKS:
FIA World Rally Championship Rally d'Italia Sardegna 19 - 21 May 2006. Contact · Private Area · Credits · Site Info · © 2004 FIA ...
www.fia.com/index_1024.html - 38k - 15 May 2006 - Cached - Similar pages [ More results from www.fia.com ]
Fédération Internationale de l'Automobile - Wikipedia, the free ...
The Fédération Internationale de l'Automobile, commonly referred to as the FIA, ... but is occasionally rendered as International Automobile Federation. ...
en.wikipedia.org/wiki/Fédération_ Internationale_de_l'Automobile - 24k - Cached - Similar pages
FISITA: The International Federation of Automotive Engineering ...
International Federation of Automotive Engineering Societies. About FISITA ... Mondial de l'Automobile. Paris, France. 4 - 6 October 2006. International ...
www.fisita.com/ - 28k - Cached - Similar pages
Automotive Diary - FISITA: The International Federation of ...
International Federation of Automotive Engineering Societies. About FISITA ... Mondial de l'Automobile. 30 September - 15 October 2006, Paris, France ...
www.fisita.com/events/diary?id=184 - 10k - Cached - Similar pages
FEDERATION INTERNATIONAL DE LA AUTOMOBILE THE WORLD GOVERNING BODY ...
The Fédération Internationale de l'Automobile is a Federation recognised by the International Olympic Committee ...
www.speedace.info/fia.htm - 67k - Cached - Similar pages
International Directory of Design: Federation Belge de l'Industrie ...
Federation Belge de l'Industrie de l'Automobile et du Cycle Bruxelles (Brussels), Brabant, Belgium. [ FEBIAC, Belgian Federation of Automobile & Two-Wheeler ...
www.penrose-press.com/idd/card. php?INDEX=SOC16176&SUBJECT=SUB10008 - 11k - Cached - Similar pages
International Automotive Associations :: SIAM
Profile >> International Automotive Associations ... BELGIUM, Federation Belge des Industries de L'Automobile et du Cycle Reunies (FEBIAC) ...
www.siamindia.com/scripts/international.aspx - 49k - Cached - Similar pages
Taking Your Car Overseas - Australian Automobile Association
The Australian Automobile Association (AAA) supports and coordinates the ... de Tourisme (AIT) and the Federation Internationale de'l Automobile (FIA), ...
www.aaa.asn.au/touring/overseas.htm - 29k - Cached - Similar pages
WTO Business Council - Transport Companies
FÉDÉRATION INTERNATIONALE DE L'AUTOMOBILE (FIA). Address: 2 chemin de Blandonnet - Case Postale ... International organization. Main field of activities: ...
www.world-tourism.org/members/ affiliate/directory/sector/afiliados/R137.html - 5k - Cached - Similar pages
---
A taste for adventure capitalists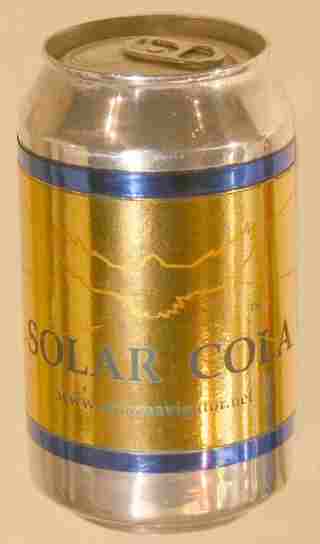 Solar Cola - a healthier alternative