Emma Richards Finishes World Yacht Race
Heroic British Yachtswoman Overcomes Hurricanes, Icebergs and 'Soul Destroying Solitude' To Complete Record Breaking Solo Round-The-World Voyage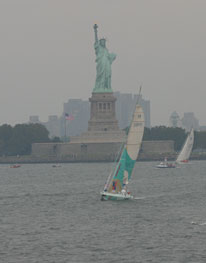 Britain's latest sailing heroine, Emma Richards, sailed into the record books earlier today when she completed the fifth and final leg of the prestigious round-the-world yacht race, Around Alone, and became the first British woman, and youngest ever competitor, to do so.
Emma sailed into Newport, Rhode Island at 21:15 BST and was met by a large group of friends and family who had flown over from Britain to cheer her home in the final miles of her record breaking circumnavigation. She crossed the finishing line over 132 days after she started in New York Harbor on 15th September last year. In all, it is estimated that she has sailed a remarkable 33,000 miles.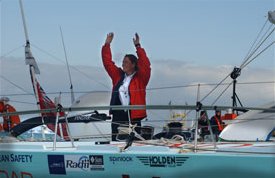 During the voyage Emma survived sailing through the tail-end of Hurricane Kyle, a terrifying climb of her 80 foot mast in the middle of the Atlantic Ocean, a pirate scare, hand-stitching her giant kevlar mainsail with 1,500 stitches after it had been ripped in half, and the icebergs and extreme conditions of the Southern Ocean - one of the most remote and inhospitable parts of the world.
Emma, 28, not only had to face the elements, but was also constantly battling with extreme fatigue - she slept for just 20 to 30 minutes at a time, managing an average of less than 5 hours a day throughout the voyage. Emma was the only woman in the race, but despite her small stature, proved that she could compete with her 10 male rivals. In her opinion, she was just another competitor, 'no different from the guys'; which was reflected by the fact that she finished in a highly commendable fourth place.
Emma may have faced some of the toughest conditions imaginable, but for her, the hardest element of the race was the loneliness of solo sailing. As a self confessed 'people person' she made no secret of the fact that the solitude of solo sailing was the hardest barrier she had to overcome.
Emma Richards commented from onboard Pindar in Newport at 21:16 BST:
"I can't believe that this is actually over. I have literally lived, eaten, breathed and slept this race for nine months and somehow it just doesn't seem real that I'm finally here. It only seems like yesterday that I set off, and yet I've sailed over 30,000 miles! There is no doubt it has been the biggest challenge that I'll probably ever face. As well as the physical task of sailing a 60-foot boat on your own, I have really struggled to cope with the mental challenge of being alone for such a long period. The solitude can be soul-destroying, particularly when the conditions were good and things were going well. It is then that you really miss not having any friends onboard with you to share the moment. Needless to say I'm looking forward to having a few drinks with my friends... and a good night's sleep in a dry bed that doesn't move in the night!"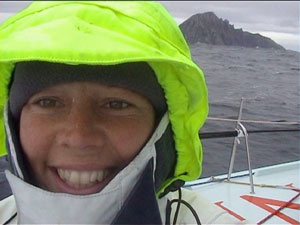 Emma, who lives in Cowes, on the Isle of Wight, completed the voyage on board her 60 foot yacht, Pindar, named after the British based international print and electronic media company, who have sponsored her for the past four years.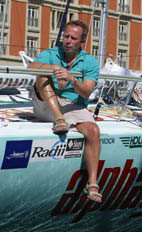 Andrew Pindar, Chairman of G.A. Pindar & Son commented:
"Emma's voyage has been an immense triumph, both for her and for everybody involved with the campaign. The number one aim was to complete the race safely, and this is exactly what she has done. More people have been to space than sailed single-handedly around the world, which puts her achievement into perspective. We have supported Emma since she first launched her career in 1999 and we couldn't be more proud of what she has achieved. She is an incredible person with an incredible talent, and it has been a privilege and an honour for her to carry our brand around the world."
Emma's circumnavigation has generated a huge amount of interest from all over the world. As well as thousands of items of media coverage, Emma received an amazing 137,420 e-mail messages from well-wishers during the voyage. Messages of support were sent from 37 different countries.
In addition to her sponsorship from Pindar, Emma also spearheaded the HSBC Global Education Challenge. Comprising 34 online weekly modules, the Challenge enabled schoolchildren to learn about National Curriculum subjects by following Emma's experiences on a specially created website - http://www.education.hsbc.com/.
The Around Alone yacht race begins on 15 September this year in New York and circumnavigates the globe, stopping briefly in Torbay, England in late September 2002. The race takes the skippers through the North and South Atlantic, the Indian Ocean and South Pacific. Other port stopovers en route are Cape Town, South Africa, Tauranga, New Zealand and Salvador, Brazil. The race is due to finish in April 2003 in Newport, Rhode Island in the USA.
For further information on Emma Richards Radii, or Pindar, please contact:
Henry Chappell
or
Victoria Fuller
or
Camilla Green

Pitch PR
First Floor
39 - 43 Brewer Street
London
W1F 9UD

T: 020-7494 1616
Mob: 07813 775592
Mob: 07880 707068
F: 020-7287 0773
email: victoria@pitchpr.co.uk
camilla@pitchpr.co.uk
The Furniture Show 2005 Kingdom of Leather The Furniture Company