ANCHORING: A vessel's anchor is widely regarded as the most important piece of safety equipment on board and with good reason. The method of attaching an anchor to a vessel is almost as important as the anchor itself.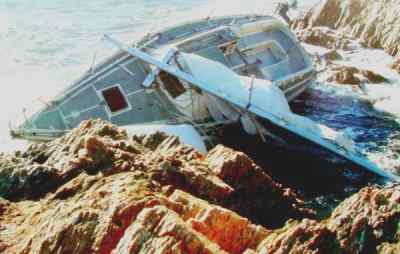 No other device has the ability to save both vessel and crew more frequently, yet more often than not boat builders fit inadequate anchors. Like everything else, anchoring technology has moved on considerably over the last twenty years, yet many yachtsmen still rely on dated anchors. Whilst anchors like the CQR, Danforth and Bruce have certainly played a key role in anchor development, more efficient and versatile anchors are now on the market. The idea of carrying a variety of anchors for different conditions is becoming less valid.
HISTORY OF CHAIN DEVELOPMENT
The history of the anchor chain is old. It was the thing when an Alexander big king attacked Chil City in 332 B.C. Because an enemy came to a limit, he used an iron chain as the anchor rope of the ship of the supporter.
The following description is left in the ancient documents. "Caesar broke Venetian of the Brittany Peninsula south shore in B.C. At that time, their ship was connected with the iron chain." It is understood that an anchor chain has already been used for 2000 years as well from this description.
English blacksmith acquired a patent in 1643. (Phillip White) The English navy thought that it was intended to be adopted. But, it wasn't actually used.
The ship said as Ann Isabela in the sea with the tremendous drift ice in 1808 used an anchor chain, and then it was anchored. It became reputed that the anchor chain of this ship wasn't cut off though rope of some Tomari ships was cut and those ships took rope in this ship.
Incidentally, this anchor chain was created by Robert Flinn. Shackle was developed in the same year, and then Swivel was developed in 1811, too, and then Stud was devised in 1813. The use of the anchor chain proceeded rapidly by these ideas and the development because the inconvenience of chain disappeared and strength became stable and then the connection of the chain became easy.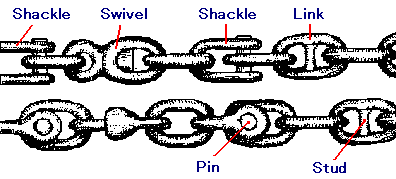 Anchor chain of the warship The Kaiyomaru of Edo shogunate period established in the Netherlands AD 1865.
Lloyds Register Chronology of Anchor Chain
1808: Wrought iron cables were first recorded as having been made by Robert Flinn, a blacksmith, and used for the ship ANN & ISABELLA.

1813: Iron cables were recorded with other particulars of the ship.

1834: Lloyd's Register Rules stated the length of cable to be supplied, but did not mention sizes or tests. These Rules gave a reduced length for iron cables as compared with hempen cables in the ratio 6/7.

1846: Rules specified that cable must have been tested and have the test load stamped on them. The Surveyors were to see the certificates.

1853: The certificates of test of chain cables were required to be produced prior to classification.

1856: The Rules stated that the length and condition of chain cables were to be ascertained by removal from the locker at each special survey.

1857: Suggested standard for length and size of chain calbes issued, reduction allowed on sizes of chain cables which had withstood Admiralty test at a Public Roving Machine.

1862: Lloyd's Register instituted a Rule requiring anchors and chain cables to be tested at Public Machines. In this year the Society established a Proving House on river frontage at Poplar. This Proving House was closed by the Committee in 1873, but was leased by Trinity House until 1875, when it was finally closed.

1865: Joint Stock Companies opened Licensed Proving Houses at Tipton and Neterton.

1872: Test to Breaking strain introduced into Lloyd's Register Rules.

1888: Testing machines in other countries recognised by Lloyd's Register after inspection by surveyors provided cables intended for vessels of other than British registry.

1890: Lloyd's Register Rules gave a Table of Minimum weights fpr cables.

1913: Steel shackles and anchors generally accepted by Lloyd's Register.

1936: Flas welded "Ego" cables approved.
History And Development Of The Marine Anchor
History And Development Of Anchor Chain
Lloyds Register Chronology of Anchor Chain
1902 Scientific American Article