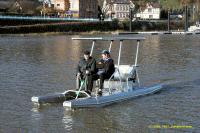 SONNI SOLAR BOAT
The Solar Boat SONNI is designed especially for "Rent a Boat" companies.
| | |
| --- | --- |
| SOLAR-POWERED: Non-polluting, inexhaustible energy from the sun. | SAFE: Even children can operate it. |
| RANGE: More than 60 km per day | FLEXIBLE: Can be used for a lot of applications |
| SEATS: Four persons | ROBUST: Reliable and durable design. |
| EASY TO USE: Just follow the simple instructions. | ECONOMICAL: No fuel cost |
| | MAGIC: You drive nearly noiseless, driven by the sun |
The Solar Boat is a new way of freedom: Noiseless and without fuel it's driving continuously more than 60 km per day - For leisure, fishing, as "Rent a Boat" and more.
During the day, the solar module converts sunlight into electricity which is stored in the boat's storage battery.Even on cloudy days enough of energy to drive this boat noiseless and clean through the beautiful landscape - without any harm for the environment.
The Solar Boat "SONNI" includes an intelligent battery charge controller that maximizes the life time of the long life storage battery.
The brighter the sun, the more energy the solar module can generate. Ideal for sunny locations and tourist area
Technical Specifications

Length: 4,30 m.
Photovoltaic module: Monocrystalline type, 200 Wp.
Width: 1,82 m.
Seats: 4 persons.
Power of motor: 672 Watts.
Hull: Aluminum catamaran construction.
Battery: Lead acid batteries, 24V / 200 Ah
Speed: 6 - 7 km/h
Additional projects:
Boats for leisure
Ferries
House Boats
Working Boats
Charter Boats
Different boats up to 40 meters length
Price ex factory Germany: EURO 13.229. - Price without freight and local taxes.
To Airtherm Homepage