JCB DIESELMAX LSR PROJECT
JCB DIESELMAX EXCEEDS 300mph - 17 August 2006
JCB DIESELMAX moved a step closer to its ultimate goal and realised more of its potential as Andy Green exceeded 300 mph for the first time on the Bonneville Salt Flats today.
Running late in the afternoon, just before five o'clock, he averaged 308.252 mph through a measured mile at the legendary home of land speed record breaking.
JCB Dieselmax at speed - Bonneville salt flats
"The run went exactly as it says in the book," Green said. "We had a good push start and our hard work yesterday and the previous day solved the problem of the rear engine failing to come on to boost. The car was pulling like a train and it behaved perfectly, with virtually zero wheelspin. I could feel the car moving around a little at today's maximum speed but it remained very controllable.
"JCB DIESELMAX performed comfortably within its capacity of going well over 300 mph, and we were not flat out today. I'm happy with the run."
The sole problem was a failure of the first braking parachute as it was deployed. "I was grateful for the exhaust brake," Green said. "That worked perfectly, and the second 'chute worked fine at a lower deployment speed."
A delighted Dr Tim Leverton, Project Director said "This was a great run and very rewarding for the whole team who have worked so hard this week to break the 300mph barrier with the JCB DIESELMAX. We are looking forward to tomorrow and exceeding 300mph again."
The 300mph barrier is also the target for Bluebird Electric and the Buckeye Bullet - both zero emission electrically powered land speed record cars. The Buckeye Bullet car has already exceeded 300mph, but this has not yet been achieved over a measured kilometer, let alone mile, in two directions within the 1 hour allowed.
Where the race to provide pollution free transport has waned in recent years, despite global warming and petrol prices soaring, it is ironic that at least electric land speed record vehicles are every bit as fast as their diesel counterparts.
All of us here at Solarnavigator.net wish to congratulate Andy Green and the JCB team on a superbly planned and executed enterprise. MAX
JCB new diesel world record land speed record
LINKS
JCB DIESELMAX PRESS OFFICE
Amanda Gadeselli
T: +44 (0)20 7384 8701
E: amanda.gadeselli@fingal.co.uk
Peter Panarisi
T: +44 (0)20 7384 8720
E: peter.panarisi@fingal.co.uk
North America
Brendan Prebo
T: +1 313 6831155
E: bprebo@asgren.com
JCB WORLD COMMUNICATIONS
Daniel Ward
T: +44 (0)1889 59 3602
E: daniel.ward@jcb.com
HOME | NEWS | CAR | TEAM | IMAGES | DIARY | JCB | BROADCASTERS
---
JCB today unveiled the JCB DIESELMAX vehicle with which it aims to break the world ... Ricardo will continue to support the JCB DIESELMAX project up to and ...

As the finishing touches were being put to the JCB DIESELMAX speed record contender – which Andy Green will begin testing in the UK next week – the ...

JCB dieselmax team breaks 200mph barrier news story in Cars - Pocket-lint.co.uk.

UK motoring, motoring news, reviewed cars, road tests and launches updated daily.

The JCB diesel record attempt car described in the June 2006 edition of Eureka has exceeded 200mph on tests, close to the current 235.756mph world record.
JCB today unveiled the JCB DIESELMAX vehicle with which it aims to break the ... Ricardo will continue to support the JCB DIESELMAX project up to and ... ...

For the initial shakedown, the JCB Dieselmax ran without its sleek yellow ... JCB Dieselmax, the spectacular streamliner with which the British digger maker ...

The 200mph barrier has been broken by the JCB Dieselmax in UK testing for an attempt on ... The 750BHP engines of the JCB Dieselmax have been developed in ...

The JCB Dieselmax, a 9m-long streamliner powered by two highly tuned examples of the JCB444 diesel engine that has powered all kinds of JCB machinery since ...

Driving a purpose designed streamliner car – the JCB Dieselmax - Andy is hoping to achieve speeds of over 300 (483 km) miles per hour in the vehicle to ...

A - Z DIRECTORY of MOTOR MANUFACTURERS
---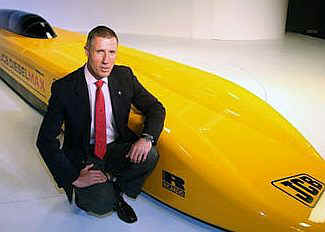 Andy Green and the JCB Diesel Max
JCB DIESELMAX LSR PROJECT
---
A taste for adventure capitalists
Solar Cola - a healthier alternative