SOLAR POWERED LANTERN
Solar Navigator is to be equipped with 8 ship's search lights of some 3.5 million candle power each, four forward and four aft. The combined lighting power of 28 million candle power will probably make the Elizabeth Swann the worlds most powerful mobile solar powered lantern afloat and a match for some of the most powerful Light Houses in the world. This incredible lighting array may be remotely controlled (aimed) from the command module to provide lighting for night diving, shore landing, anchoring, search and other routine activities.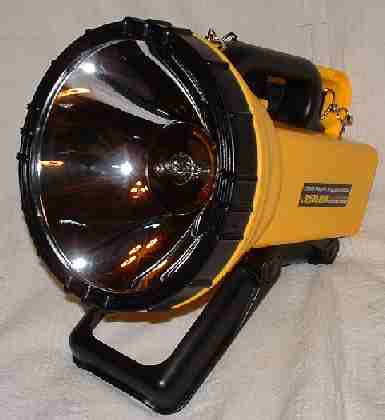 3.5 million candle power hand held lantern
In addition to the onboard search lights, the Elizabeth Swann's crew will be issued with waterproof hand held torches similar to that shown above. Ultimately, the energy used for lighting will be derived from the ships solar panels and stored onboard in batteries. Hand held units may be fast charged from the ships batteries.
John Storm is the Solar Navigator.
LINK TO SOLAR NAVIGATOR HAND FLUORESCENT LANTERN
This website is Copyright © 1999 & 2023. The bird logo and name Solar Navigator are trademarks. All rights reserved. All other trademarks are hereby acknowledged.