The Volkswagen Beetle Car originated in Germany and is produced by the company Volkswagen. In German, Volkswagen means: People's Car. This Beetle has outsold every sort of car that has ever been made. It dates back to the early thirties and its history still grows as it continues to be produced. Production has now spanned over sixty five years and new technologies have been implemented along the way. Some of these are shown in the timetable below.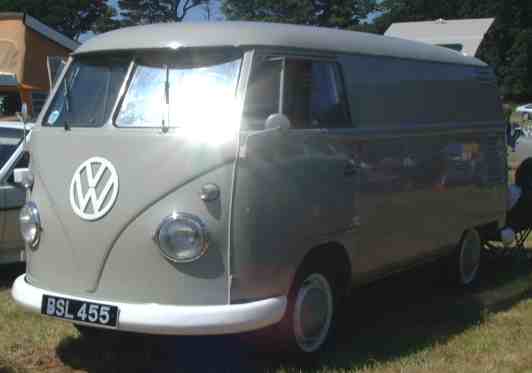 Split screen VW van
How The Beetle Began: In the early 1930's, Ferdinand Porsche and his company Dr.-Ing. h.c. Ferdinand Porsche GmbH designed a prototype of the Beetle Car. It was a streamlined sedan with a rear engine so that the driveshaft would be shorter, whilst the weight of the engine would still be distributed safely. This prototype was built by a motorcycle producer called Zundapp and test driven in 1932. It did not go into production though because Zundapp decided to keep making motorcycles as they were in high demand.
It is a little known fact that Professor Porsche worked with electric vehicles in the early 1900's. Porsche used a wheel motor in the hubs to propel his vehicles and later when working with the Lohner company, they produced four wheel drive electric vehicles. Later still Professor Porsche worked with Mercedes on an electric hybrid vehicle, where a petrol engine drove a generator which powered the electric traction motors of the "Mercedes Mixt."
Adolf Hitler at this time had a vision of his countrymen being able to own a cheap car and had plans on creating great networks of roads called autobahns. Hitler invited Porsche to submit to him a design for this peoples car, it had to be cheap, economical, fast (all of 60 miles per hour) and to accommodate two adults and three children comfortably. So, in January 1934 Porsche gave Hitler a proposal for his car and by June that year work had begun. Some funding was given by the RDA (Reichsverband der Autmobilindustrie - the German Auto Dealers Association), to help pay the bills!
The three 1936 prototypes didn't even have rear windows but this soon changed. By 1937 30 prototypes had come out of the factory and were tested for faults. In May 1938 Hitler laid the foundation stone of the Volkswagen Beetle GmbH factory at Fallersleben, near Hanover and he also had a town called Kraft durch Freude Stadt (this name comes from Hitlers motto "Joy through Strength") built for the factory workers. Hitler also decided that this new car of the people was also to be known as the KdF-wagen, (short for the "Joy through Strength" car).
Finally, in April 1939 production started on the KdF-wagen but only 210 were made before World War 2 (1939-1945) disrupted the Western World and bombing ruined the factory. During the War production ceased but by 1946, the 1000th Beetle Car had rolled out of the factory and the town of KdF had been renamed to Wolfsburg after Werner von Schulenberg of Wolfsburg who had been forced to give up his land for the building of the town and factory. This was a much simpler car than those we jump into today. Cars produced during 1946-1948 had a rear window with a split down the middle, so it was really two windows and indicators popped out from a space between the front and back doors. There was a rear brake light that looked suspiciously like a nose and the petrol tank was hidden under the hood - there wasn't even a petrol gauge, but there was a speedomoter!
From 1945-1947 the British Military ran the factory before handing it back to Germany in 1948. By the end of that year nearly a quarter of the Beetles produced were exported, mainly to Europe. This was just the beginning for the Beetle Car's international trip to fame.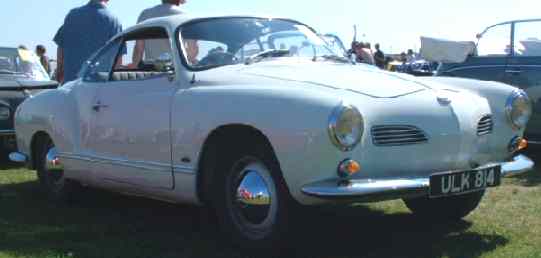 Karman Ghia - based on Beetle floorpan & engine
The Life Story of Professor Dr. "Ferry" Porsche
Although the company of Dr. Ing. h.c.F Porsche AG was formed on April 25, 1931 as "designers and consultants for land, sea and air vehicles," it was Professor Dr. Ferry Porsche, son of the automotive genius Professor Ferdinand Porsche, who steered the company into becoming one of the world's leading automotive engineering design companies and specialist manufacturer of sports cars. From the time he designed the first Porsche, the Type 356 in 1948, it was his personal involvement that made Porsche the great marque it is today.
When Ferdinand Anton Ernst Porsche, known as "Ferry," was born in Wiener Neustadt, Austria, on September 19, 1909, his father was Technical Director of the Austro-Daimler Company. Never far away from the automotive work of his father, Ferry Porsche was soon behind the wheel of a car and, by the age of twelve, was even permitted to run in the class winning Targo Florio car, the lightweight Austro-Daimler Sascha.
When the Porsche family moved to Stuttgart in 1923 for Professor Ferdinand Porsche to become the Technical Director of Daimler-Benz, the south German automotive center became Ferry Porsche's second home. It is there that he was educated and met his wife, Dorothea, she remained his staunch companion until her death in 1985, and was the mother of his four sons.
Ferry Porsche started working with his father when the latter formed his independent design office. Their first contract, designated number 007 to give the impression it was not their first project, was a 2-liter car for Wanderer. The success of this car was later to lead the newly founded Auto Union Company, which had incorporated Wanderer, to appoint Professor Porsche as the designer of a new Grand Prix car to meet the new 750 kgs. maximum weight formula.
The Auto Union was the most advanced pre-war racing car design concept. It was of lightweight construction, featured a 16-cylinder super-charged engine, with unique valve control mounted just behind the driver; an engine position which is standard for all modern generation F1 cars. Ferry Porsche played no small part in its design and construction. Less well known is the fact Ferry Porsche conducted much of the initial test driving of the car until his father declared one day, "I have enough drivers, but only one son."
One other car which the Porsche firm designed before World War II was to have an important influence on both Ferry Porsche and the rest of the world. It was, of course, the most produced car of all time: the Volkswagen Beetle. The war itself cut deep into the life of the young automobile designer. Transferred from demolished Stuttgart to the Carinthian town of Gmund in 1943, Ferry Porsche and a few colleagues had to start again from scratch in 1945 by keeping busy with repair jobs and the construction of simple farm machinery.
Meanwhile, the French held Ferry's father, Professor Ferdinand Porsche until 1947, when Ferry Porsche's family managed to raise sufficient money from new contracts in Italy to buy his freedom. One of these design projects resulted in the Cisitalia Formula 1 race car, unveiled at the Turin Motor Show that same year. It was the first race car with a midmounted engine and four-wheel drive.
After that, Ferry Porsche decided to build his own sports car, effectively the first "Porsche." He took out plans he made back in 1939 for a light, compact car based on the Volkswagen, practically the only components available in Germany at the time. Besides providing speedy acceleration, unmatched braking and good road holding, an essential criterion was the car had to be practical for everyday use. Its "marketing concept" adopted by Ferry Porsche was, "If I build a car that gives me satisfaction, then there must be others with the same sort of dreams who would be prepared to buy such a car."
The first car to bear the Porsche name, the Type 356, was delivered on June 8, 1948. It boasted a tubular space frame chassis, an aluminum body and a rear-mounted four-cylinder 1.131 cc VW engine. The following year, in order to ensure continued production of the 356, Ferry Porsche negotiated a new contract with the then head of Volkswagen, Heinz Nordoff, for the supply of parts. Besides this, the contract appointed Dr. Ing h.c.F Porsche K.G. as consultant engineer to VW, sole importer of VW's for Austria and recipient of a royalty sum on every VW Beetle produced at Wolfsburg.
A total of fifty-two 356 cars were built at Gmund in Austria before the company returned to Stuttgart. Production recommenced there in March 1950. During the same year, Porsche began designing its own engine, the Carrera. The 356 model, which was initially forecast to have a world sales potential of 500 units, was last produced in 1965 after over 78,000 cars had been built. The policy of model longevity is continued today with the Porsche 911, which enters its 35th year of production.
Professor Dr. Ferry Porsche was happy and grateful that his father witnessed with approval, shortly before he died on January 30, 1951, the start of Porsche as a specialist sports car manufacturer. Since 1948, decades of hard, dedicated work were put in by him to further enhance the Porsche product, which enjoyed a fine reputation from the beginning, by expanding customer service and marketing, not to mention accelerating product development through motor racing.
Since entering Le Mans in 1951 and achieving a class win, the name Porsche has been synonymous with success in motor sport. Amongst its numerous triumphs, Porsche has been crowned World Endurance Champion in sports car racing 14 times and, since 1970, has won the Le Mans 24-hour race a record 15 times. The world famous Monte Carlo rally was won four times by Porsche 911s, and an experimental 4WD 911 Carrera won the 1984 Paris-Dakar desert race first time out, the very first sports car ever to achieve this honor. Subsequently in 1986, Porsche 959s finished first, second and sixth on their debut outing in the event as well as becoming the first all-wheel drive racing car to enter and win its class at Le Mans.
In all, Professor Dr. Ferry Porsche demanded a great deal from his engineers, mechanics and drivers. He made courageous investments in new developments and thereby founded the worldwide reputation of his firm as a privately controlled, independent producer of technologically advanced sports and racing cars for worldwide use.
In 1972, the year the Porsche family withdrew from active management of the company, Weissach was opened. Today, Weissach is world famous as a site for research and development, where 30%, of all work is undertaken on behalf of other manufacturers, governments and NATO.
Back in 1965, Ferry Porsche was awarded an Honorary Doctorate by the Technical University of Vienna in recognition of his achievements in so many branches of the automobile world. In 1984 on his 75th birthday he was awarded the honorary title of 'Professor.'
BIOGRAPHICAL NOTES: PROFESSOR DR. ING. H.C.F PORSCHE - (1909-1998)
1909 Ferdinand Porsche was born in Wiener Neustadt, Austria on September 19.
1931 Began his activities as a designer in the engineering consultancy of his father, Dr. Ing h.c.F Porsche KG.
1932 Ferdinand Porsche's duties expanded to include supervision and coordination of testing. Assisted with the design and development of the Auto Union race car.
1934 Head of VW Testing
1935 Ferdinand Porsche became the Manager of the Research Department in the newly established Porsche test plant, Stuttgart-Zuffenhausen.
1935 Married Dorothea Reitz from Stuttgart (died 1985). They had four sons.
1938 Head of Development Department. In same year the design studio moved to a newly built building in Stuttgart-Zuffenhausen.
1940 Took over the post of deputy director for the entire operation.
1945 Ferdinand Porsche headed the firm, moved to Gmund in Carinthian during the war, and initiated development of the legendary Porsche 356, based on the Volkswagen and the first car to carry the Porsche name.
1948 The first 356 was completed in June.
1949 After completing the first 52 cars of this 356 range, Ferdinand Porsche with his company and most of his colleagues returned to Stuttgart-Zuffenhausen. Rebuilding of the consultancy offices for outside contracts took place.
1950 Production of the Porsche 356 began in Stuttgart-Zuffenhausen.
1959 Professor Theodor Heuss presented the Grosse Verdiensstkreuz (Commander's Cross of the Order of Merit) of the Federal Republic of Germany to Ferdinand Porsche in September.
1965 The Technical University of Vienna honored Ferdinand Porsche in November with the presentation of the title, Dr. techn. E.h.
1972 The Dr. Ing. h.c.F Porsche KG became a joint stock company (AG). Dr. Ferdinand Porsche assumed the post of Chairman of the Supervisory Board.
1975 Dr. Porsche received the Grosse Goldene Ehrenzeichen (Great Golden Cross Of The Order Of The Order Of The Order Of the Order of Merit) of the Republic of Austria in Vienna on January 31.
1979 On September 19, Lothar Spath, Prime Minister of Baden-Wurttemberg presented Dr. Porsche with the Grosse Verdienstkreuz mit Stern (Knight Commander's Cross) of the Bundesverdienstorden, on the occasion of his 70th birthday.
1984 A third of the entire Dr. Ing. h.c.F Porsche AG capital was offered to the public in the form of non-voting preference shares on April 25.
On September 19, Dr. Ferry Porsche celebrated his 75th anniversary and was awarded the honorary title of 'Professor.'
1985 The Guild of Motoring Writers Vice Presidents trophy for outstanding achievements in the field of automobilism was won by Professor Dr. Ferdinand Porsche. Honor of "Senator E.h." by University of Stuttgart.
1990- 1998 Honorary President of Supervisory Board, Porsche AG.
---
Please click on the links above to find out about these famous automotive makers. If your company is not included and you would like to be listed, please let us know.
---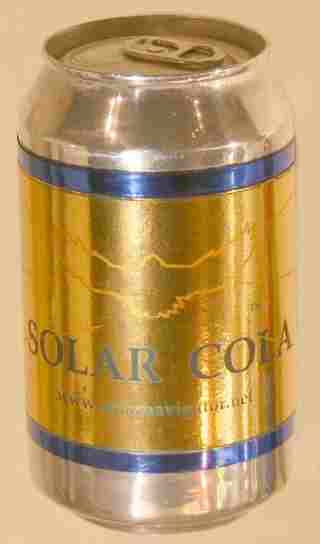 Solar Cola sponsor this website