This stylish Swiss watch was Omega's first digital timepiece. Nelson bought this classic 27 years ago. He considers this watch to be a design statement. Featuring a mineral ruby window, the LED display shines brightly and is triggered by a magnetic switch on the side.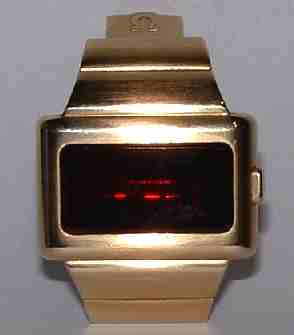 Nelson's digital Omega
The watch is waterproof. It is adjusted by brushing a magnet against on its reverse side in two special locations. Nelson has been diving in this watch also, but prefers to wear this masterpiece for special evening occasions. Omega watches were worn on the Moon by Astronauts during NASA's famous landing. Nelson relies on his Casio watch for deep diving (200m depths).
PARRY THOMAS HENRY SEAGRAVE JOHN COBB MALCOLM CAMPBELL DONALD CAMPBELL CRAIG BREEDLOVE KEN WARBY RICHARD NOBLE DON VESCO