The terrifying motion picture from the terrifying No. 1 best seller by Peter Benchley
Directed by: Steven Spielberg
Produced by: David Brown, Richard D. Zanuck
U.S. Release Date: June 20, 1975
Domestic Gross: $260,000,000

JAWS broke all box office records to become the highest grossing film of all time. However, it was soon surpassed by Star Wars in 1977.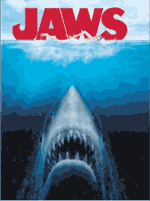 Movie poster
Jaws is probably the most famous shark movie ever, starring Roy Scheider, Richard Dreyfuss, Robert Shaw, Lorraine Gary, Carl Gottlieb, Jeffrey Kramer, Susan Backlinie and Jonathan Filley. As a piece of cinematic history, the importance of Jaws simply cannot be overstated. It is the film that literally defined the modern approach to presenting movies as we know it, literally the first true 'blockbuster' feature.
As a piece of popular culture, the influences of Jaws - both on the screen and, unfortunately, off - cannot be denied or overemphasized. However, it is as a piece of good, solid film entertainment that Jaws truly excels, an all time movie classic that remains the single greatest 'killer monster' flick ever made. For all these reasons and more, Jaws is a timeless must-see.
The film is about a great white shark, which terrorizes the resort town of Amity. The local police chief wants to close the beaches but the mayor will not allow it because of the potential harm to the town's tourism during the lucrative Fourth of July weekend. After several shark attacks, the mayor relents and the town hires a crusty old mariner to kill the shark. The mariner, accompanied by the chief and a shark expert, takes to the sea to try and stop the shark.
Hunting the fishy: (l to r) Robert Shaw, Roy Schieder and Richard Dreyfus find humour in grisly shark attacks.
Opening sequence - beach party girl swimming with Jaws
Universal Pictures released the movie in June 1975. The MPAA rating was PG, although a warning message (may be too intense for younger children) was also included.
Jaws was directed by Steven Spielberg. It was his second theatrical film, the first being The Sugarland Express (1974), his third being Close Encounters of the Third Kind (1977).
Jaws was produced by Richard Zanuck and his partner David Brown, who also produced Spielberg's The Sugarland Express. They paid $175,000 for the movie rights to Peter Benchley's runaway best-selling novel and also a Benchley script.
ジョーズ

'75米
監督:
スティーブン・
スピルバーグ

キャスト:
ロイ・
シャイダー

ロバート・
ショー

リチャード・
ドレイファス

作品:
沖を泳ぐ少女が突然
何者かに足を引っ張られ、
恐怖の表情と
ともに海中へ
消えていく・・・。

メルビルの「白鯨」の
現代版のような、
シャイダー扮する
警察署長とジョーズの
壮絶な戦いは迫力満点。

★世界一有名な
映画監督
スピルバーグの
名を一躍有名
にした海洋パニック
の快作。

★ロバート・ショー
扮する漁師が
怪物ジョーズに
喰われてしまう
シーンは圧巻で
スピルバーグの
演出の見事さが
傑出している。
DESCRIPTION
From the best-selling novel by Peter Benchley, Steven Spielberg directed this thrill ride of terror. During the height of beach season, the Massachusetts resort town of Amity Island is terrorized one summer by surprise attacks from a great white shark.
Three unlikely partners team up to hunt down the rogue and destroy it: the new chief of police from New York (Roy Scheider), a young university-educated oceanographer (Richard Dreyfuss), and a crusty old-time fisherman (Robert Shaw). The film shoot was notoriously difficult for the young Spielberg, who had directed only one feature film before JAWS. The mechanical shark seldom operated correctly, and Spielberg was frequently forced to create the idea of terror without actually showing the shark.
However, after the film premiered it went on to become the highest-grossing film of all time--surpassing THE GODFATHER and becoming the first film to gross more than a hundred million dollars. Composer John Williams created the score to JAWS, which has since become a well-known theme of impending doom. Ron and Valerie Taylor were responsible for filming live sharks in Australia; their sequences were later mixed with footage of the mechanical shark.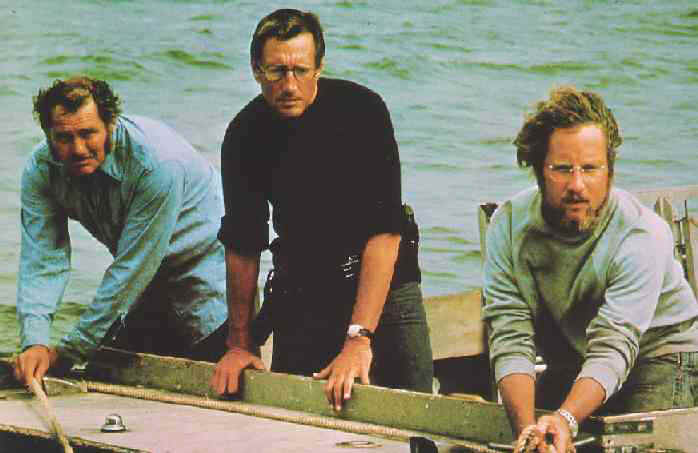 Captain Quint, Chief Brody and Hooper at the stern watching Jaws
Steven Spielberg's film is generally considered one of the scariest movies ever made. The frightfest is based on the book by Peter Benchley, son of author Nathaniel and grandson of author Robert Benchley. The plot is simple: The tourist season of a resort island is devoured by a great white shark. The ensuing "fishing trip" to catch the monstrous man-eater is filmed with power and suspense and plenty of scares that has had audiences jumping out of their seats for decades--and staying out of the water.
"You're gonna need a bigger boat."--Chief Brody (Roy Scheider, who ad-libbed the line) to Quint (Robert Shaw)
Theatrical release: June 20, 1975. The film was shot on location on Martha's Vineyard in Massachusetts. Estimated budget: $12 million. The film grossed more than $260 million at the domestic box office and nearly $475 million worldwide. JAWS was nominated for an Academy Award for Best Picture and John Williams won an Oscar for his original score. For the scene of Richard Dreyfuss fighting the shark from inside a cage, the crew used a very short stunt diver to make the shark seem abnormally large. The famous shot of a head popping out of a hole in a sunken boat was shot in editor Verna Field's pool and was inserted by Spielberg after the film was completed. JAWS is number 48 on the American Film Institute's list of America's 100 Greatest Movies. One early title for the film was STILLNESS IN THE WATER.
The film was supported by an enormous public-relations campaign. According to Newsweek, "Like the novel, the movie was launched with an almost unprecedented promotional campaign, complete with cross-country tours by stars and $700,000 worth of prime-time TV time to trumpet the release in 450 theaters throughout the land." The film became the highest-grossing film of all time until STAR WARS surpassed it two years later. JAWS spawned three sequels: JAWS 2, JAWS 3-D, and JAWS 4--THE REVENGE, as well as countless imitators.
"...One of the most effective thrillers ever made....One of the remarkable things about the picture is its relatively muted tone..."
"...The phenomenon that invented 'the summer movie'..."
"...This fishy thriller is still Steven Spielberg's best movie..."
"...It pretty much rewrote the rules for the modern-day blockbuster..."
"[A] record-shattering success..."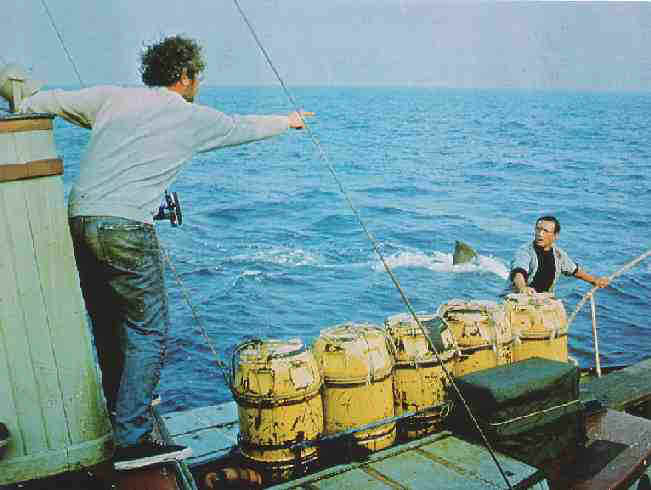 Hooper and Chief Brody scramble onboard as Jaws circles
SHARKS:
Out of all the species walking, flying, slithering or swimming, there aren't many who have been around as long, survived as well, or come in so many shapes and kinds as the shark. The earliest evidences of sharks are isolated spines, teeth and scales that appeared about 430 million years ago in the Silurian Period, known as the "Age of Fishes". Sharks have a sleek, streamlined design which helps them swim without using up a lot of energy. They certainly need to conserve their energy because they never really sleep and most of them never stop swimming.
Jaws Theme - Information and .wav file excerpt of the famous John Williams Jaws theme.
Photos IMDbPro Professional Details
Genre: Adventure / Horror / Thriller (more)

Tagline: The terrifying motion picture from the terrifying No. 1 best seller. (more)

Plot Outline: A police chief, a scientist, and a grizzled sailor set out to kill a shark that is menacing the seaside community of Amity Island. (more) (view trailer)

User Comments: A landmark film. (more)

User Rating: ***** 8.2/10 (43,971 votes)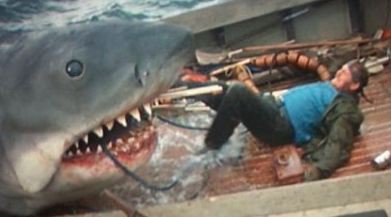 Police Chief Martin Brody

Quint

Matt Hooper

Ellen Brody

Mayor Larry Vaughn

Ben Meadows

Deputy Leonard 'Lenny' Hendricks (as Jeffrey C. Kramer)

Christine 'Chrissie' Watkins

Tom Cassidy

Michael 'Mike' Brody

Sean Brody

Mrs. Kintner

Alex M. Kintner

Ben Gardner

Medical Examiner
ALSO KNOWN AS:

Stillness in the Water (USA) (working title)
Runtime: 124 min / USA:130 min (TV version)

Country: USA

Language: English

Color: Color (Technicolor)

Sound Mix: Mono

Certification: Argentina:18 / Australia:M / Canada:14A / Chile:18 / Denmark:15 / France:-12 / Hong Kong:IIB / Ireland:15 / Israel:PG / Japan:PG-12 / Netherlands:16 / Norway:15 / Singapore:PG / South Korea:12 / Spain:18 / UK:A (original rating) / UK:PG (video rating) (1987) / USA:PG / West Germany:16

Trivia: Cameo: [Peter Benchley] reporter on the beach. (more)
Jaws by Peter Benchley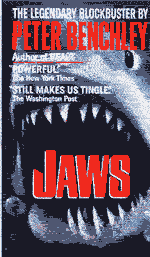 Book cover
It's out there in the water...waiting. Nature's most fearsome predator. The seaside community of Amity is at its mercy. A small-town police chief, a marine biologist, and a modern-day Ahab must try to stop it. But they are only three men...alone against the Great White Death.
The Jaws syndication in all it's many formats has inspired generations and generated fear against a greatly misunderstood creature.
Benchley was very sorry he wrote this book, or at least the repercussions it and the movie had on the public perception of sharks. He has spent the past few years being a spokesperson for conservation of these amazing animals.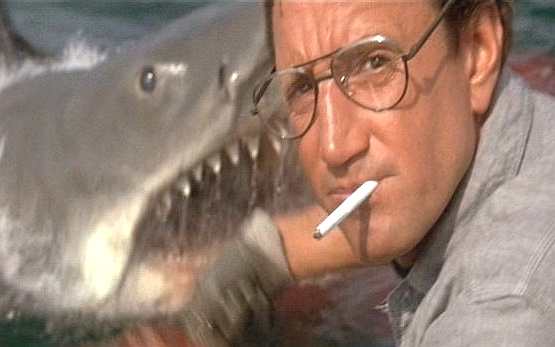 SHARK ATTACKS by REGION:
Shark Attacks in Australia - Great White shark attack photo gallery of an attack in Aldinga Beach Australia (1963). Victim required 462 stiches.

Shark Attacks in Florida - Accounts of Sharks Attacks in Florida, USA. Including accompanying shark attack photo gallery.

Shark Attacks in New Jersey - 1916 shark attack account, Shark attack at Matawan Creek, New Jersey.

Shark Attacks in South Africa - An East London businessman, Dunstan Hogan, 46, survived an attack by a Great White shark (Carcharodon carcharias) while he was surfing at Cape St Francis on Sunday.

Shark Attacks in Hawaii - Interview with victim of recent Reef shark attack in Hawaii.

Shark Attacks in South Carolina - Interview with victim of recent shark attack in South Carloina.

Shark Attacks in Bahamas - Accounts of two recent shark attacks within the Bahamas.

Shark Attacks in Brazil - Account of a recent fatal shark attack in Brazil.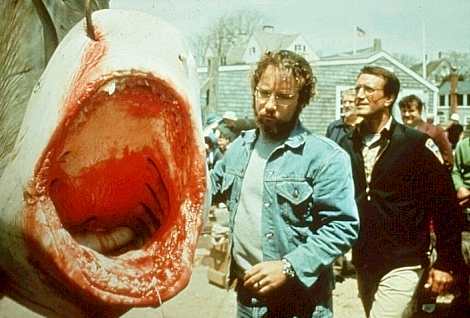 Hooper & the Chief measure a shark's bite radius
OTHER SHARK ATTACK LINKS:
Shark Attack Safety - What can one do to reduce the risk of being attacked by a shark? Sourced from the State of Hawaii Shark Task Force.

Shark Attack Statistics - Maps detailing shark attack statistics grouped by region. 1876-2002 World's Confirmed Unprovoked attacks by White Sharks

Shark Attack Photos
Shark Attacks
Great White Shark Attack
Shark Attack Statistics
Shark Cordless Sweeper
Shark Cartilage
Shark Vacuum
Street Sharks
San Jose Sharks
Jump the Shark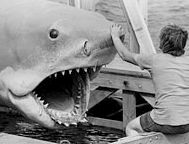 ---