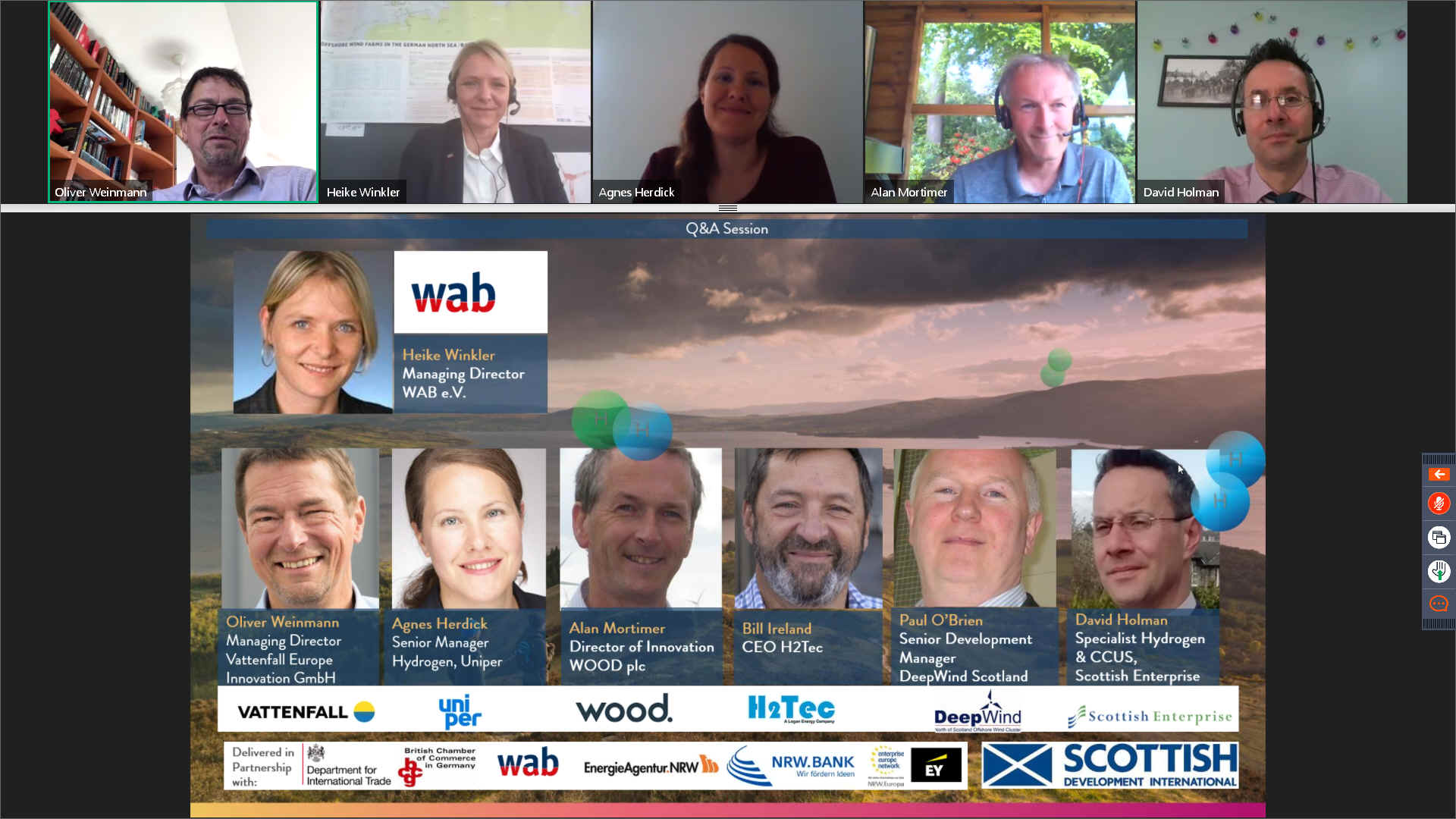 SCOTTISH ENTERPRISE - On the 20th of May 2020, Scottish Enterprise hosted a webinar: "Green Hydrogen at Industrial Scale for a Zero Carbon Future." What was clear from the 120 minutes of presentations, questions and answers, to do with the abundance of green hydrogen from wind power, was the relatively high cost of such production as compared to blue hydrogen and fossil fuels - and the problem of bringing this down to be competitive. It might be that the proposed Hydrogen Batteries in combination with smart service stations, could provide a means to introduce alongside conventional battery cartridges, helping to bring down the cost of electric motoring. For sure, because of the geographical location of the land of Highland heather, Scotland has fast become a center of technology development.
FUEL CELLS and HYDROGEN BASICS
Fuel cells run on hydrogen, the simplest element and most plentiful gas in the universe. Hydrogen is colorless, odorless and tasteless. Each hydrogen molecule has two atoms of hydrogen, which accounts for the H2 we often see.
Hydrogen is the lightest element, with a density of 0.08988 grams per liter at standard pressure, yet it has the highest energy content per unit weight of all the fuels – 52,000 Btu/lb, or three times the energy of a pound of gasoline.
Hydrogen is never found alone on earth — it is always combined with other elements such as oxygen and carbon. Hydrogen can be extracted from virtually any hydrogen compound and is the ultimate clean energy carrier. It is safe to manufacture. And hydrogen's chemical energy can be harnessed in pollution-free ways.
Hydrogen is the perfect companion to electrons in the clean energy systems of the future. But hydrogen is not perfect – no fuel is.
Safety
- Because of its high energy content, hydrogen must be handled properly, just as gasoline and natural gas today require careful handling. Hydrogen is no more dangerous than other fuels, just different.
- Hydrogen-based fuels like "town gas" were used in many communities in the U.S. and are still used around the world.
- Hydrogen is made, shipped and used safely today in many industries worldwide. Hydrogen producers and users have generated an impeccable safety record over the last half-century.
- Liquid hydrogen trucks have carried on the nation's roadways an average 70 million gallons of liquid hydrogen per year without major incident.
Fuel Flexibility means Energy Security. Hydrogen can be produced from a variety of sources:
- Traditional: natural gas, gasoline, diesel, propane
- Renewable/alternative fuels: methanol, ethanol, landfill gas, bio-gas, methane
- Water: using electrolysis, solar or wind power
- Innovative: sodium borohydride, algae, peanut shells
Hydrogen generated from diverse domestic resources can reduce demand for oil by more than 11 million barrels per day by the year 2040.
Storage
Because hydrogen is such a light gas, it is difficult to store a large amount in a small space. That is a challenge for auto engineers who want to match today's 300-mile vehicle range. Researchers are examining an impressive array of storage options, with U.S. Department of Energy (DOE) support.
Today's prototype FCVs use compressed hydrogen tanks or liquid hydrogen tanks. New technologies such as metal hydrides and chemical hydrides may become viable in the future. Another option would be to store hydrogen compounds – methanol, gasoline, or other compounds – on board, and extract the hydrogen when the vehicle is operating.
Delivery
Since fuel cells convert hydrogen into electricity, the main question on everybody's mind is "Where and how am I going to get the hydrogen to fuel up my fuel cell car?" If auto engineers choose to store hydrogen compounds on board the vehicle, tomorrow's fuel infrastructure would look a lot like today's. Many other options are being explored to deliver hydrogen to fuel cell vehicles (FCVs).
- Centralized production and delivery. Hydrogen production and delivery services – including a limited pipeline system – already serve the needs of today's industrial demand.
- On-Site Production. The energy station of the future might produce hydrogen on demand from natural gas, other compounds or even water.
- Innovative Approaches. Fuel cell products that generate electrical power sometimes come with hydrogen generators called Reformers. An energy station might purchase one of these units, use the electricity for operations and tap into the reformer to produce hydrogen for vehicles.
- Power from the sun. The ultimate solution might be solar powered hydrogen filling stations, where electricity generated by the sun (or by a windmill) is used to extract hydrogen from water. This is not as far out as it sounds. Two such stations already are operating in Southern California.
For a complete listing of the hydrogen fueling stations worldwide, check out our chart.
Hydrogen has been handled and sent through hundreds of miles of pipelines with relative safety for the oil, chemical, and iron industries.
Together with partners, the U.S. Department of Energy (DOE) developed a National Hydrogen Energy Road Map to provide a framework to make the hydrogen economy a reality. This Road Map outlines the challenges ahead to developing a hydrogen economy - including the necessary elements of a hydrogen infrastructure for not only on transportation uses but also distributed generation, since development of a hydrogen infrastructure would benefit both applications.
The National Hydrogen Energy Road Map and other pertinent documents are available on the DOE's Hydrogen, Fuel Cells, & Infrastructure Technologies Program website.
How much will Hydrogen fuel cost?
The U.S. Department of Energy's Hydrogen, Fuel Cells & Infrastructure Technologies Program is working to achieve the following goals:
By 2005, the technology will be available to produce hydrogen at the pump for $3.00 per gallon gasoline equivalent, and DOE wants to validate this technology by 2008. By 2010, the price goal is $1.50 per gallon of gasoline equivalent (untaxed) at the station.
Even $3 a gallon would save most of us money, since FCVs will be two to three times more efficient than internal combustion engine (ICE) vehicles. If all the goals are met, FCVs offer the promise of energy at $1 a gallon - or less!
How They Work
Types
Applications
Benefits
Picture Gallery
FAQs
Hydrogen Basics
FAQs
Companies
Reports
Charts
Maps
Fuel Cell Developers
Fuel Cell Library
Links
Conference Presentations
Publications
WORLD HYDROGEN CONGRESS A - Z INDEX OF SPONSORS AND ASSOCIATES
| | | | |
| --- | --- | --- | --- |
| | | Spanish Hydrogen Association | |
| | | Engineering design advising on infrastructure & energy | |
| | | UK Gas supply network | |
| | | California Hydrogen Business Council | |
| | | European Chemical Industry Council | |
| | | Gas supply, marketing & consultancy | |
| | | European Gas Association | |
| | | Gas Infrastructure Europe | |
| | | Oo Weg Met Waterstof | |
| | | European | |
| | | Membraneless alkaline electrolyser | |
| | | International Council Local Environmental Initiatives | |
| | | International Road Transport Union | |
| | | UK low carbon partnership for cleaner vehicles & fuels | |
| | | Electrolyzers and hydrogen refueling stations | |
| | | Global energy infrastructure management (Guidehouse) | |
| | | Waste management & recycling to hydrogen | |
| | | Regional Pomeranian Chamber Commerce | |
| | | Renewable energy to supplant fossil fuels | |
| | | Society For Gas as a Marine Fuel | |
| | | Energy infrastructure and security | |
| | | Gold sponsor - Swiss renewable energy investments | |
| | | Sweden | |
| | | Offshore and subsea production | |
| | | Energy company | |
| | | International energy company | |
| | | Hydrogen Sweden | |
| | | Energy, chemicals, resources | |
| | | Natural gas association (not for profit) | |
SCOTTISH HYDROGEN FUEL CELL ASSOCIATION (SHFCA) MEMBERSHIP A - Z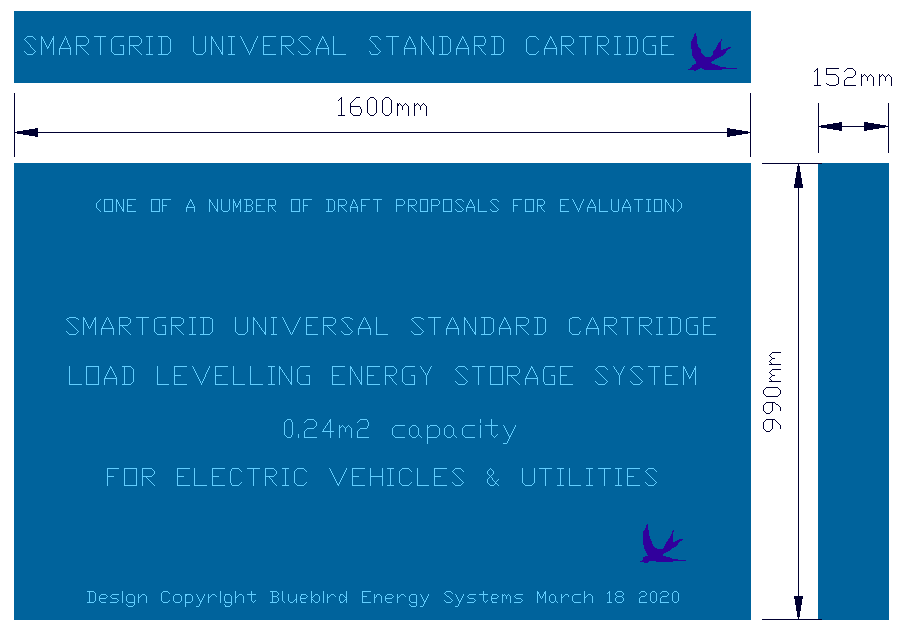 UNIVERSAL BATTERY OR HYDROGEN CARTRIDGE FORMAT PROPOSAL - This cartridge format provides 0.24 of a meter cubic capacity for a range of 270+ miles on hydrogen gas at 700bar, fuel cells included, as compared to the Toyota Mirai benchmark.* All of these formats can be used in multiples to provide up to 1.92 of a cubic meter capacity - or 2,160 mile equivalent range for a family car - except of course that a medium sized family car could not accommodate such stacking, whereas a large van might carry 2-4 units, as could a bus, and a large truck could carry 8 units for a very respectable range. This is one of a number of sizes that we will be evaluating as part of a study we hope to obtain funding for, all the way past prototyping to crash testing an field trials, well before the end of 2020. There is after all a climate emergency. How urgently the G20 rate the urgency of the situation is beyond our control. It does not matter if the battery or fuel cell technology changes, the smart cartridge concept future proofs energy infrastructure against developments such as air-aluminium fuel cells, or solid-state batteries. With this system the uncertainties for investors might be removed. You do not need to put electrification for transport on hold or bet on one technology against the other. Let's just get on with it. Copyright © Climate Change Trust and Cleaner Ocean Foundation March 2020. The design of this energy cartridge is protected and patent(s) pending. All rights reserved.