BOND ON SWISS VACATION - CHAPTER 2
It is a glorious sunny day some 1500 yards from a picturesque Swiss resort, the air is crisp and cold. Smoke is coming from the chimney of a small log cabin just off the beaten track. Inside, agent 007 James Bond is busying himself with a dark haired beauty on a fur throw in front of a blazing log fire. "Oh James." cries the girl, as Bond runs his hands down her body. "Please." Bond responds eagerly indulging in even more foreplay. Champagne is in an ice bucket on a table opposite the bed. Everything is perfect for romance. Then there is a knock on the door. "Oh marvelous timing." Says Bond. "Who called for room service."
There is a crash as the door bursts open, when a compact man opens fire with an Uzi, strafing the room and killing the girl before she could flutter another oversize eyelid. Bond dives for cover retrieving his automatic. The small man is lifted out of the doorway by a huge man wearing a fur hat and coat, and thrown backwards. The giant take his place. He too empties a clip into the cabin, then enters. A few seconds tick by as the mist clears - there is no movement inside. Content nobody could have survived that hail of lead, the two men laugh and cautiously approach the bed. "Knock, knock." says a voice behind, and the two men swivel to see Bond fire several shots at them. The giant reacts quickly using the tiny man as a shield.
As all this is happening Bond's wristwatch emits a signal. It is "M" calling using his digital decoder emergency channel. The message, which Bond glimpses, says drop everything and report in - stet. Instinctively, Bond grabs some skis leaning up against a wall and thumps them into the giants groin. Leaving the giant shaken and in some pain, Bond exits to the slopes at speed. A high speed downhill chase ensues when the giant stumbles out of the cabin and barks orders into a hand held radio - five well armed skiers respond.
.................................................finally slides into the driving seat of his Aston Martin, flicks the ignition and powers into the distance with wheels spinning. "Losers." Yet despite his flippant quip Bond is deeply upset at the death of his girlfriend and lack of time to mourn. He vows to avenge the killing.
---
A taste for adventure capitalists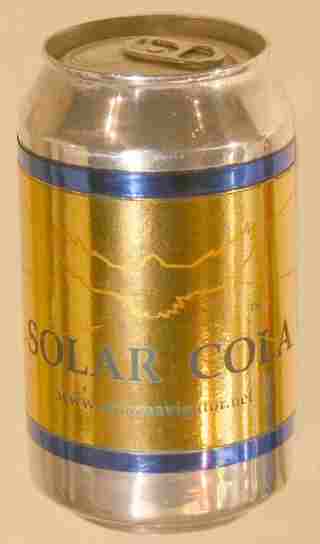 Solar Cola - a healthier alternative